Financing is key to food systems reform, say leaders at UN event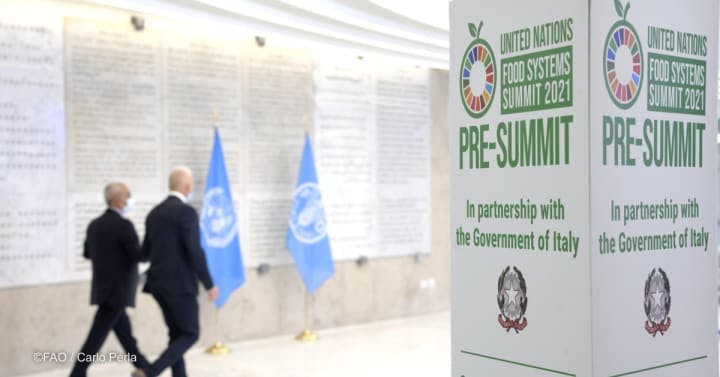 United Nations officials, world leaders, farmers, private sector actors, and civil society members sounded the alarm about the urgent need to properly fund global food systems reform as the Food Systems Pre-Summit opened in Rome on Monday.
U.N. Secretary-General António Guterres told delegates gathered for the three-day event, taking place in person and online, that the world is at a "pivotal moment" to galvanize progress on the Sustainable Development Goals — all 17 of which are linked to how the world produces, transports, sells, and consumes food.
"Poverty, income inequality, and the high cost of food continue to keep healthy diets out of the reach of some 3 billion people. Climate change and conflict are both consequences and drivers of this catastrophe," Guterres said. "The [COVID-19] pandemic, which still assails us, has highlighted the links between inequality, poverty, food, disease, and our planet. Our war against nature includes a food system that generates one-third of all greenhouse gas emissions. And the same food system is responsible for up to 80% of biodiversity loss."
Guterres, who in 2019 announced that the U.N. would convene a summit on food systems, will host the main event in New York in September, although an exact date has yet to be announced. The summit infrastructure split the topic of food systems into five "action tracks," around which participants have hosted a series of virtual dialogues to gather feedback and ideas. Anyone in the world was invited to convene an independent dialogue to suggest possible solutions.
On Monday, world leaders called on one another to increase funding for food systems reform, with Italian Prime Minister Mario Draghi saying the pandemic has accelerated the speed at which changes must be made as global hunger numbers spike. "The State of Food Security and Nutrition in the World 2021," released earlier this month, found that 118 million more people went hungry in 2020 compared with 2019.
"The health crisis has led to a food crisis. We've taken commitments to make sure that vaccines are available to the world's poorest. We must act just as forcefully and improve access to adequate food supplies," Draghi said. "We need more funding from governments and development banks to reduce risks for investors in the agricultural sector and improve access to credit, especially for smaller farmers."
The World Bank has been working with other entities to "rethink" financial incentives that govern food systems, said Martien van Nieuwkoop, global director for agriculture and food global practice at the bank. He told delegates that the costs and benefits of the food system are "totally out of sync" and leading to hidden costs — including malnutrition, deforestation, and pollution — of about $12 trillion per year. That's more than the market value of food systems, estimated at $10 trillion.
"How can you put in place clear incentives towards healthier outcomes for people, planet, and the economy? How do we use financing as a lever to reduce negative costs and enhance the benefits associated with farming and food?" van Nieuwkoop said.
Realigning public policies, making private sector investments greener, and increasing consumer access to healthy food are three ways to do that, he said.
"We think the world needs concrete measures to level the playing field for socially and environmentally and nutritionally responsible food production," van Nieuwkoop said.
Source: Devex.com