The role satellite technology can play in assisting African farmers in 2022
RO
Randy Opoku Barimah
27/01/2022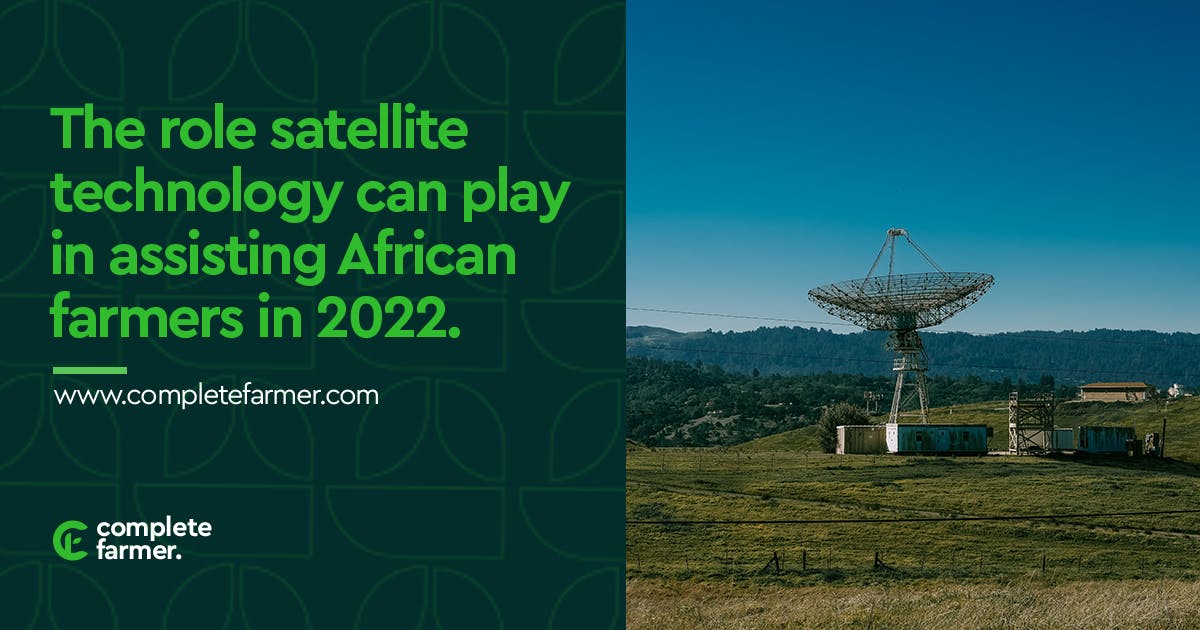 Farming may be challenging and unpredictable, especially if you live in an area where the amount and penetration of technology that could mitigate these risks are essentially non-existent. You might be astonished to learn that smallholder farmers make up more than 80% of all farmers in Africa. Also, did you know that they produce 70% of the food consumed in Africa?
READ ALSO: Complete Farmer 2022: what lays beyond the horizon?
Yes, you read that correctly. As you can see where I'm going with this, smallholder farmers rarely have access to these technologies, despite the fact that they cultivate 80 per cent of Sub-Saharan Africa's arable land, which is dependent mostly on rainfall and lacks the luxury of irrigation. As a result, severe weather conditions frequently result in significant loss of produce.
Imagine being able to monitor agricultural production, forecast harvests, and be proactive about weather conditions. This would better prepare African farmers for such occurrences. This, when combined with social protection and insurance plans, would significantly increase the protection's strength.
Thanks to companies like Complete Farmer in Ghana, farmers can sign up as Growers on completefarmer.com and receive data-driven cultivation protocols as well as use precision farming, which is enabled by satellite technology provided by EOS Data Analytics, that help improve cost-effectiveness, crop yield, and develop a competitive advantage as a result.
The goal of Complete Farmer's relationship with EOS Data Analytics is to help the African region develop precision agriculture by spreading the word about the importance of satellite technology in everyday farming.
If more companies were emulating these efforts by Complete Farmer, innovative technological breakthroughs in farming in Africa would become more commonplace, rather than a surprise to some when they learn about some of the incredible benefits that satellite technology provides to African farmers.
According to Saito from World Economic Forum, the hydro-meteorological risks, such as floods and droughts, have the greatest influence on agricultural production in Sub-Saharan Africa. Many governments in Africa usually respond to floods and droughts by providing relief in the form of food, cash, or livestock replacement for farmers after the catastrophe has occurred. Such interventions are often delayed, costly, and encourage a dependence culture. Moreover, it is mostly the international community, rather than the distressed country, that often funds this pattern of dependency.
By using satellite information and data collected on the ground, you are able to receive reliable weather forecasts, accumulated precipitation of our farms, daily field temperature, precise problem area detection, and activity logs which aid in planning and organizing activities throughout the farming season. All of this allows people to know what to expect and how to prepare for it, which helps to build early reaction mechanisms.
Agricultural insurance schemes, as described by Saito, are common early response mechanisms in which agricultural producers acquire insurance policies for themselves or the government purchases policies on their behalf. An insurance payout is paid to the insured once satellite data indicates that an agreed-upon threshold has been reached (e.g., a specified degree of projected crop loss). Through these means, social safety nets are being employed more frequently.
READ ALSO: Complete Farmer 2021: Year in Review
It's self-evident that satellite technology has many benefits for African farmers, and in order to help African farmers realise these benefits in 2022,  much more policy navigation, as well as a more thorough attempt at implementation, is required.
Reference
https://www.weforum.org/agenda/2015/11/how-can-satellite-technology-help-african-farmers/
https://eos.com/blog/eos-data-analytics-partners-up-with-complete-farmer/