CF Staff Writes Episode 17
RO
Randy Opoku Barimah
27/01/2022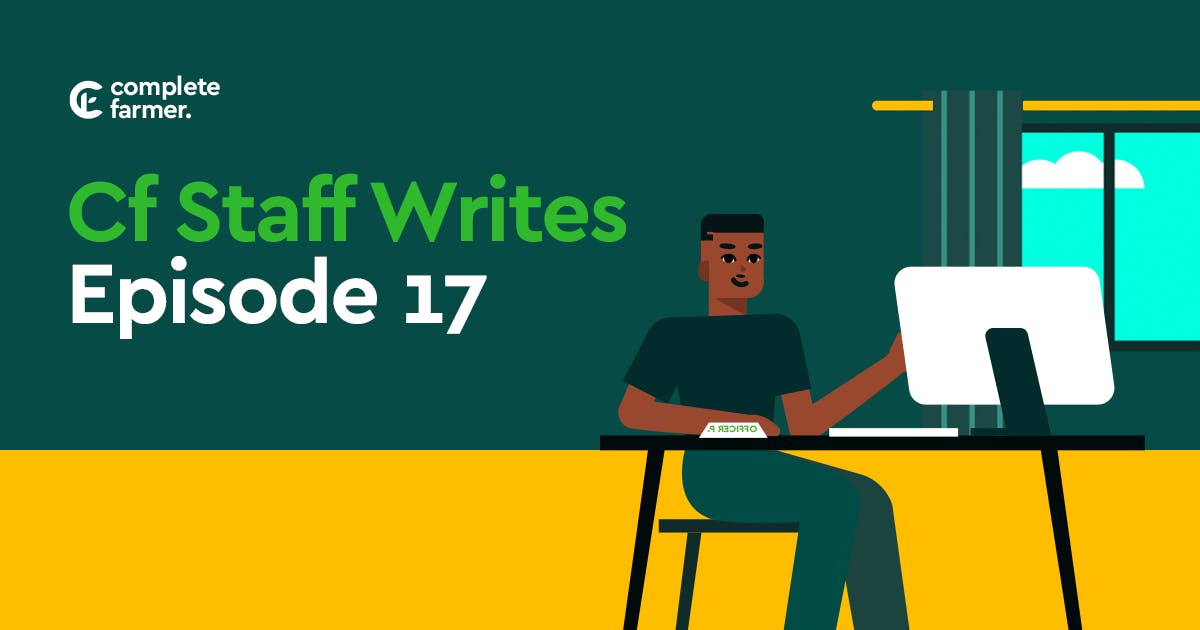 When you're miles away from supervising or facilitating what has to be done, making sure activities scheduled to be executed on the field go as planned can be difficult. To reach your objectives, you'll need to handle your relationships carefully and tenderly at times.
This is always the case for Kelvin Boamponsem, our Field Administrator when coordinating tasks on our farms. We met with him this week to learn how he accomplishes this, the hurdles he faces, his development, and many more. 
READ ALSO: CF Staff Writes Episode 16
Take a read below:
Why did you choose to work with Complete Farmer, and how long have you worked with Complete Farmer?
I chose to work with Complete Farmer because I believe in what Complete Farmer is doing and also, Complete Farmer is actually a really cool place to work. 
As a Field Administrator, what do you do on a day-to-day basis?
I do a lot of farm planning, monitoring and controlling the progress and executions of specific tasks on the farms and just recently, with the introduction of the grower model, I do a lot of meetings with potential growers. 
Do you find any aspect of your work routines enjoyable?
I do actually. I love meeting with new farmers, picking their brains on how they do their farms. I also enjoy the travels to new places to meet these farmers. It helps me grasp and appreciate how people from different walks conduct their daily activities. It's been a very fun and eye-opening experience for me so far. 
What do you consider to be the most significant component of your work?
I'd say the most significant component of my work is the ability to maintain your composure under tremendous pressure.
What are some challenges you face within your line of work?
I think one major challenge I face is getting all stakeholders to align with the scope of a project. Getting third parties to do exactly as you want the work done and on time, getting some team members to see your vision and align with your schedules.
Have you ever seen failure within your line of work, and how did you handle it?
I think the way I handle failure is to talk to people I feel are higher than me for alternative ways to do the task at which I failed. And most times, I read a lot about the failed tasks and ways they can be done better.
Describe an interesting fact about yourself?
Not many people know this about me, but when I was a kid I always dreamed of becoming a spy. 😂😂
What do you like to do for fun?
I like Jesse Eisenberg and Michael B. Jordan movies probably way more than I should. 
What do you think a good Field Administrator contributes to a company like Complete Farmer?
A good field administrator contributes a lot to Complete Farmer. A good farm plan with a very good budget is a huge step closer to achieving a successful farm. The field administrator also ensures that third parties contracted to work on the farms do their work according to Complete Farmer standards. All these are really key to achieving a successful farm project. 
Can you mention anything you have learnt during the period you have been with Complete Farmer?
If there's anything I've learnt at Complete Farmer, it's to always keep learning. Complete Farmer is a very innovative place, new ideas are being implemented daily. You'd have to keep up to maintain relevance in such an institution. 
How does your job affect your personal life?
Like I mentioned earlier, I get to meet lots of people from different walks of life in my line of work at CF and how that affects my personal life is, it's opened my eyes to a lot of things and it's really shaped the way I see the world and treat people.
What motivates you to be a better Field Administrator?
My past failures. 
What do you believe Complete Farmer represents in three words?
Innovation, Pacesetting, Daring.
READ ALSO: CF Staff Writes Episode 15
Kelvin does not appear to be affected by failure or pressure since he realizes that doing so only delays rather than solves the problem. As he continues to develop with this persistent mindset, his passion to constantly find a way around any challenge has been a defining highlight in his career.