CF Staff Writes Episode 13
RO
Randy Opoku Barimah
24/11/2021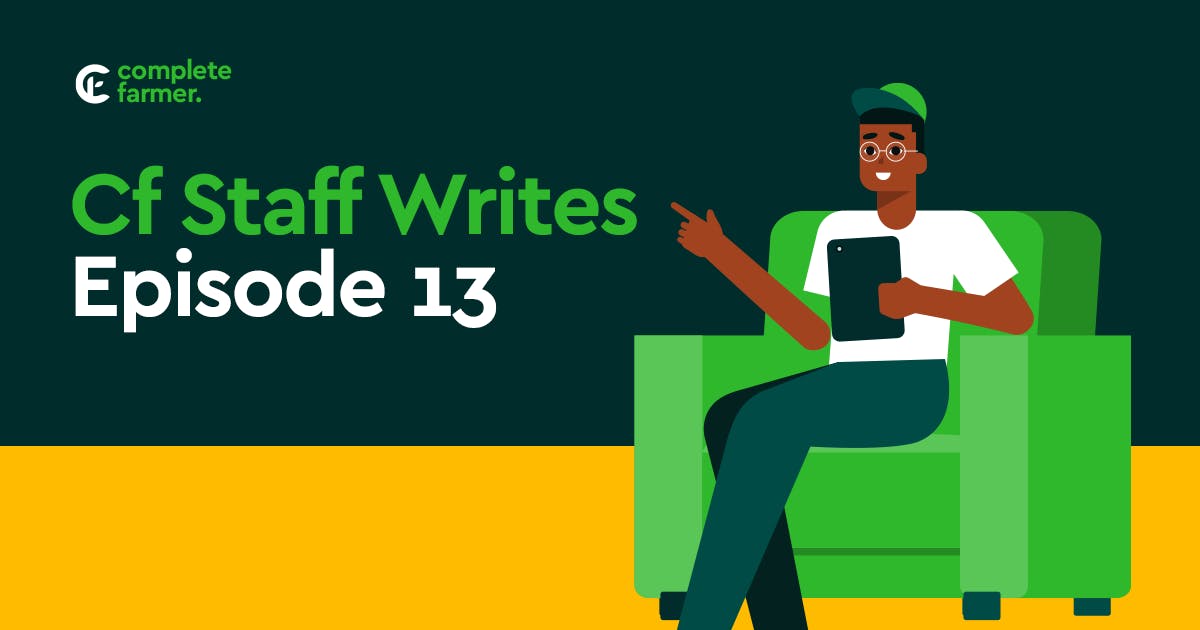 It can be difficult to stay on the right track when creating content for a specific audience. Some may work, while others will not. It's even more perplexing when the content you thought would appeal to the audience fails to do so.
LISTEN TO OUR PODCAST EP 1: The Effects of Food on Our Bodies
However, the epitome of desired content creation for any content developer is when created content boosts brand reputation, social presence, customer connection, and engagement.
Randy Opoku Barimah, a Content Developer at Complete Farmer, has no different expectations when it comes to content development. When content is well blended with final products, he believes content is the primary focus of attention.
On CF Staff Writes this week, we spoke to Randy to understand other aspects of his life, how he goes about his work, and his career progression so far with Complete Farmer. This is what he had to say:
When did you start working with Complete Farmer?

  I started working with Complete Farmer in early March 2021.
What do you like most about working at Complete Farmer so far?
    The fast-paced creative environment.
Can you tell me an interesting fact about yourself?

I've never been one to have an interesting fact about myself, but it's been said that I look great in a sea blue t-shirt.
If you were attending a cocktail dinner how would you explain your role at Complete Farmer?

A digital content creator who provides ideation, text, videos, and pictures that speak to what Complete Farmer stands for, and propel the brand.
What inspired you to become a content developer?

The ability to control the message and enact reactive emotional responses, as well as the eventual communication of the message, can be extremely powerful.
What has been one major accomplishment for you as a content developer?

The little milestones achieved from content that fuels the brand image. 
Of all the projects you've worked on at Complete Farmer, which has been your favourite and why?

A few months ago, I would have mentioned a fun fact video I made with the team some time ago. But, seldomly travelling to the hinterlands of the country and documenting our farms' progress, as well as engaging with our farmhands and managers, and other people I might never meet if I weren't on the farm has provided me with a wealth of on-the-job experience that has fueled my craft.
What's a typical day in the life of a content developer at Complete Farmer like?

Usually tiring, with few creative blocks, but a mixture of back-end website copy creation, videos, images, and storytelling.
What do you do at your leisure or when you're not working?

I watch a lot of well-produced media content. Interviews, films, television shows, reading articles from various industries, listening to podcasts, and other forms of media are just a few examples. I also enjoy experimenting with different meals.
What is the one thing you think every aspiring Content developer should know about the role? 
It can be difficult to come up with new ideas for content. Especially if you haven't found the right one to appeal to your target audience. Finding the right content requires a lot of observation, learning, doing things you don't like, and tests. Balancing all of these factors and ensuring that your audience is at the centre of your content creation will go a long way toward achieving success with churned out content.
READ ALSO: CF Staff Writes Episode 12
Believing there are always other means to get better at creating content seems to be a drive for Randy, and should be a compelling factor for everyone in different sectors of life. That's perseverance, and it's always proven to lead to breakthroughs, even when things appear bleak.