CF Staff Writes Episode 14
RO
Randy Opoku Barimah
08/12/2021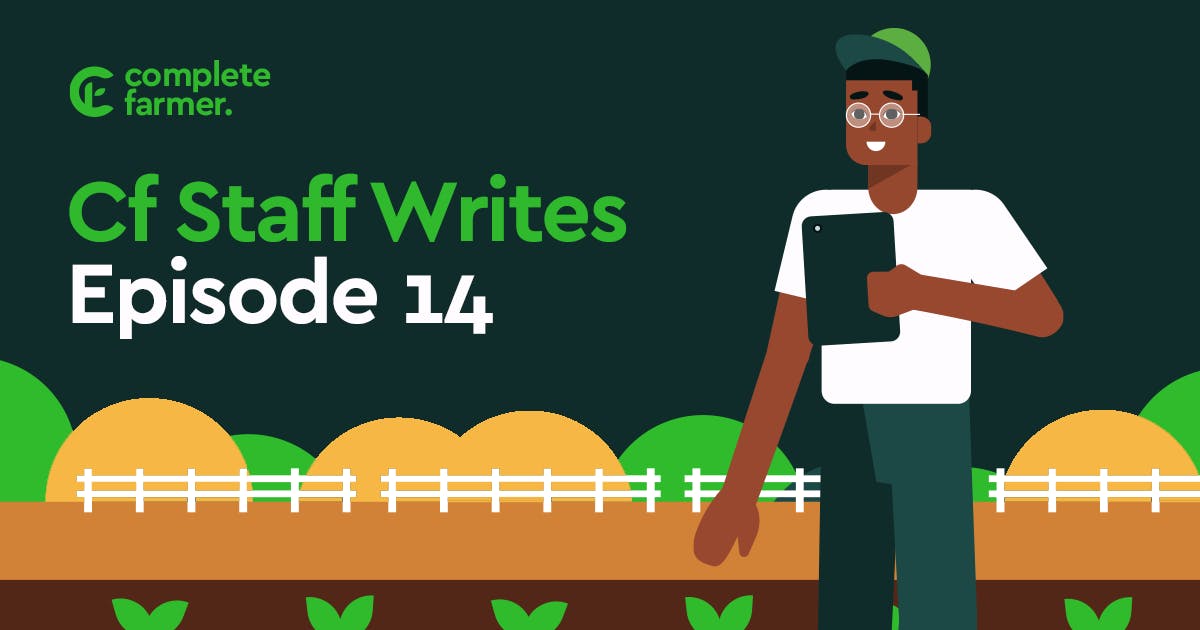 Complete farmer being able to grow to buyer specifications and help growers grow to international market demand through data-driven cultivation protocols is all made possible by agronomists. 
They research the necessary cultivation processes to determine the need, intensity of tasks (e.g., fertilizer dosage), the best way to grow specific crops, and so on. Without agronomy research, precision farming will be deficient.
This week on CF Staff Writes, we spoke to Kwarshie, a research agronomist, at Complete Farmer. In our conversation, we discussed how to get into agronomy, the challenges in the field, why he chose the field, and many more. 
These were some of his responses:
When did you start working with Complete Farmer?
May 24, 2020
What do you like most about working at Complete Farmer so far?
The opportunity the Company provides for young people to master their craft and skill set. 
Can you tell me an interesting fact about yourself?
I don't like saying no. I'd rather do something about it than to say no.  I like to cook and try new things.
If you were attending a cocktail dinner how would you explain your role at Complete Farmer?
My role at Complete Farmer as an agronomist is to make crop production more effective and efficient by conducting research and experiments.
What inspired you to become an Agronomist?
Growing up, I used to follow my grandma to the farm on vacations. She gave me a small area for me to seed and make sure my crops perform well. The excitement I get when the crops emerge from the soil and the joy it comes with at harvest is overwhelming. And also the business side of it. These inspire me a lot.
What has been one major accomplishment for you as an Agronomist?
When a rice research project I was involved in was published on BBC focus Africa in 2020 and another tomato trial was published in the same year by TV3. 
Of all the projects you've worked on at Complete Farmer, which has been your favourite and why?
The groundnut production trial. It was my very first trial. Prior to the trial, there were a lot of misconceptions about it. But that actually fueled my motivation to make sure it was successful. During the final stages of the trial, people appreciated the results and the adaptation was easier than I expected, knowing how people react to change and new ideas.
What's a typical day in the life of an agronomist at Complete Farmer like?
As a research agronomist, I'm supposed to be "the tomorrow's eyes ' in terms of efficient crop production. This requires more reading and more application of knowledge.
What do you do at your leisure or when you're not working?
When not working, I always want to spend time with family and friends and love to take pictures.
In your own opinion what do you think is the link or connection between technology and Agronomy?
There are technologies in agronomy. Any new idea that makes the production more effective and efficient is a technology. These technologies can be machines, implements, tools, equipment, improved varieties or the modified production process.
What is the one thing you think every aspiring Agronomist should know about the role? 
Upcoming Agronomists should be inquisitive and be able to investigate. He or she should be able to bring knowledge to life.
Research agronomy needs patience, meticulousness, and foresight to correctly analyse, measure, and define certain protocols. This has been the backbone to Kwashie's work and development at Complete Farmer.